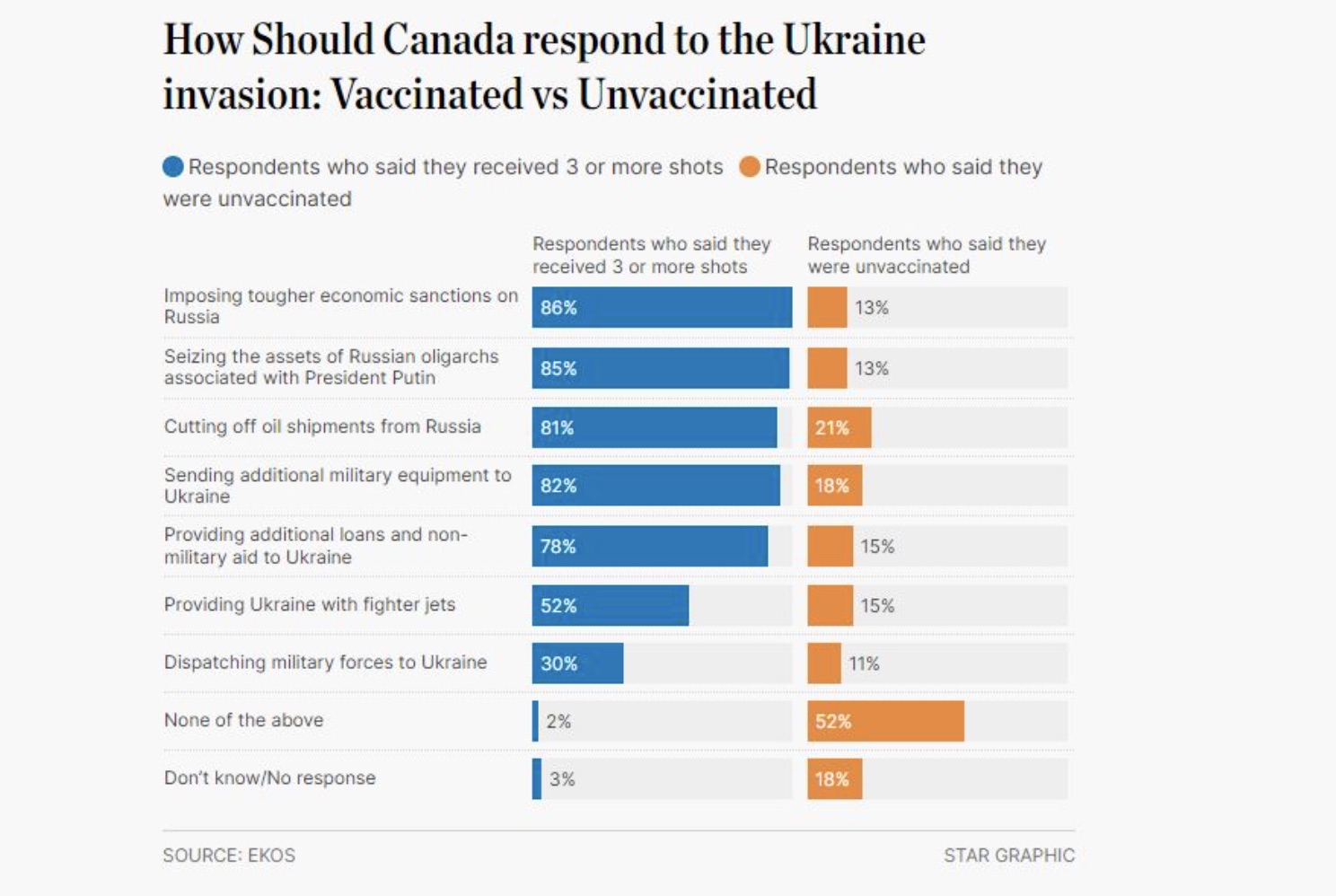 Unvaccinated Canadians are 12 times more likely than those who received three doses to believe Vladimir Putin's invasion of Ukraine was justified, according to a new survey by national polling firm EKOS.
The poll found 26 per cent of those who identified as unvaccinated agreed the Russian invasion is justified, with another 35 per cent not offering an opinion.
EKOS president Frank Graves said vaccination status strongly predicts views on the war, from seizing the property of Russian oligarchs to providing non-military aid to Ukraine. In each case, a vast majority of vaccinated Canadians agreed with measures to help Ukraine and oppose Russia, a view held by only a small minority of unvaccinated.
The EKOS survey — conducted from March 9 to March 13 and using a random sample of 1,035 Canadians — concludes that a "plurality of vaccine refusers are much more sympathetic to Russia."
Of those Canadians who received three doses of COVID-19 vaccine, the study found 82 per cent agreed with imposing tougher sanctions on Russia even if it meant higher fuel and food prices at home.
Only 18 per cent of unvaccinated people concurred.
Eighty-five per cent of vaccinated people agree the country should take in Ukrainian refugees versus 30 per cent of unvaccinated Canadians. While 88 per cent of vaccinated Canadians agree Russia is committing war crimes during the widely condemned invasion, 32 per cent of unvaccinated people do.
---
The study concludes the results point "to the highly corrosive influences of disinformation."
"This is definitely a new and bluntly insidious force that's contributing to polarization and disinformation and poor decision-making. And it doesn't seem to be going away. Things are getting worse," said Graves. "I don't think this is because those people had an ingrained sympathy to the Russians. They're reading this online, they're consuming this from the same sources that were giving them the anti-vax stuff."
"I saw it almost immediately, within days of the invasion, people supporting it and some quite stridently," said Timothy Caulfield, a Canada Research Chair in health law and policy at the University of Alberta who has studied the rise and spread of conspiracy theories. "It was pro-Russia, pro-Putin, it was the same kind of dogmatic language you heard from the anti-vaxxers about the alleged harms associated with vaccines. And it was almost immediate and it was from the same crowd."
Unvaccinated Canadians are also more likely to have a profound distrust of government, science and professional health experts, Graves said, and are more likely to support the protest convoy that occupied Ottawa.
The population of unvaccinated Canadians is relatively small. Around 85 per cent of Canadians five years old and older have at least two doses of COVID-19 vaccine, according to federal data.
Nearly half of Canadians 18 and older have received their booster.