Timestamped | 'Many more indictments to come'
Hillary knew about the conspiracy, and likely was briefed multiple times. According to Ratcliffe, that would make her guilty of multiple felonies in a criminal conspiracy case. Ratcliffe however, does not say her name.
Ratcliffe says Joe Biden and Barack Obama knew Hillary Clinton's campaign was trying to hack into Trump's servers to try and find links to the Kremlin. Ratcliffe said former CIA Director John Brennan told Obama and the then-president and Vice President Biden in 2016 about allegations Clinton was trying to fabricate Trump's links to Russia to distract from the scandal over her deleted emails.
'Well, I can talk about this because this part has been declassified,' he prefaced. 'He briefed President Obama and Vice President Biden and other members of the national security team about this specific intelligence that John Durham now has about a Hillary Clinton plan to falsely accuse and vilify Donald Trump with a scandal, and the discussion around that and whether or not it was good intelligence.'
'And so everything that happened after that is one of the reasons that John Durham is investigating,' Ratcliffe added. 'Those are the issues that John Durham is looking at and I think there will be many more,' he said. 'I would expect there to be quite a few more indictments because of that. There wasn't a proper predicate to begin that investigation and John Durham has said that publicly already.'
Headline from Daily Mail tonight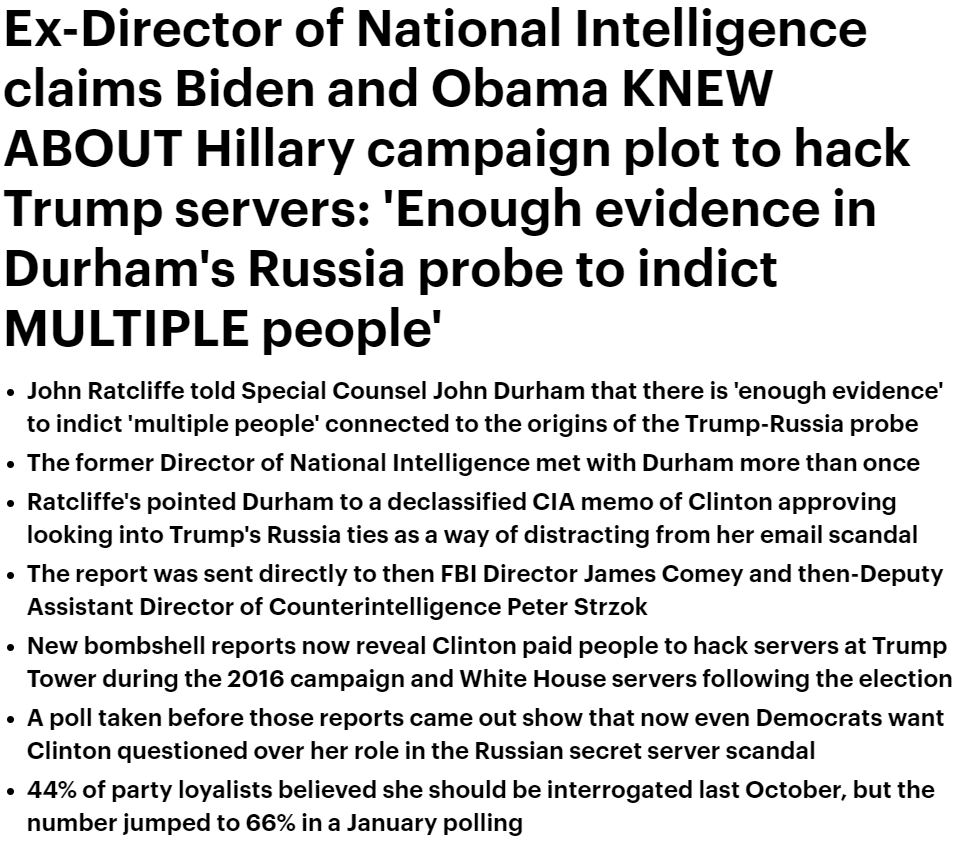 ---
Jake Sullivan and Colin Kahl
Adam Housley is hearing some interesting information from his source as well.