Andrew Ansbro, president of the FDNY-Firefighters Association, slammed NYC mayor Bill De Blasio Monday, after it was revealed that some 2300 firefighters are unable to do their jobs because of the vaccine mandate.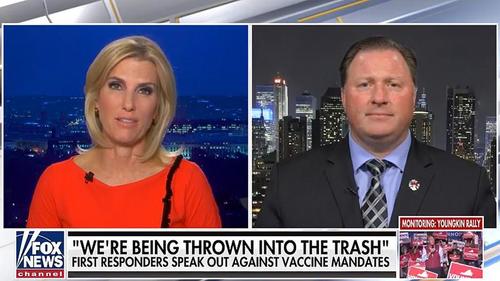 Ansbro assured Fox News anchor Laura Ingraham that the firefighters are not all anti-vaccine, but they are standing up against a vaccine mandate.
"From the beginning, a lot of members didn't feel they need it because they were already infected previously," Ansbro noted, explaining "We just want our day in court. We want to have the ability to be heard."
"When you tell someone they have nine days to make a decision for a vaccination or lose their job, they don't want to work with you," Ansbro urged.
He also pointed out that regarding vaccinations, "Teachers were given over a month, and corrections does not have to make the decision until December 1st."
"So once again, the mayor is showing that people that care for criminals have more rights than people who care for the average New Yorker," Ansbro declared.
The union leader also slammed critics who are suggesting that firefighters on 'sickouts' are causing staff shortages themselves, noting "You can't claim that the unvaccinated firefighters are causing a staffing shortage because this morning you were sending them home. So they wouldn't have been working either way."
First responders protesting the mandate proclaimed that they are being treated like "garbage" and "thrown to the trash."
One firefighter commented, "When we go to calls, we don't judge and say are you worth saving?" adding "But now our livelihoods and our families well being is a question, are we worth it? We never asked that question during the pandemic."
Watch:
NYPD officers also protested Monday by holding a sickout, prompting the leftist media to go into attack dog mode: