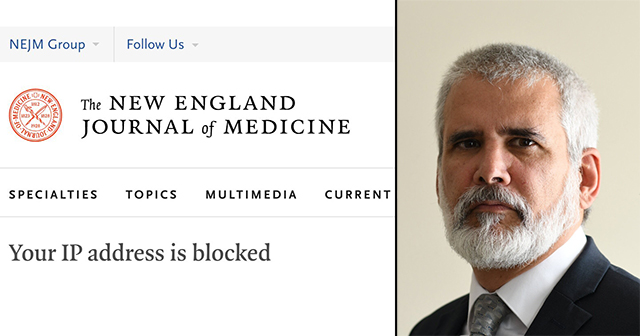 Dr Robert Malone, the inventor of mRNA vaccines and RNA as a drug, has apparently been banned from reading the New England Journal of Medicine after they decided to manually block his IP address in a stunningly "petty act."

"This is fascinating. I am apparently no longer allowed to read the New England Journal of Medicine," Dr Malone said Thursday on Twitter. "They have blocked my internet protocol address."

Malone said he's aware of how to get around IP blocks "but what is fascinating is that the NEJM would even take the trouble to do this petty act."



The NEJM has yet to respond to his allegations.

Malone, who has been at the forefront of speaking out against vaxxing young people, was blocked right as multiple studies were being released in the NEJM on post-vax myocarditis.



"I am going to speak bluntly. Physicians who speak out are being actively hunted via medical boards and the press. They are trying to deligitimize and pick us off one by one. This is not a conspiracy theory - this is a fact. Please wake up. This is happening globally," Malone said.

"I was labeled as a 'terrorist' in the Italian press when I was in Rome for the International COVID Summit. My crime? Advocating for early treatment of COVID-19 disease. I suggest that merits a bit of meditation."



In July, the Federation of State Medical Boards sent out a statement threatening doctors that they may lose their medical licenses if they spread "misinformation" about covid vaccines.

"Due to their specialized knowledge and training, licensed physicians possess a high degree of public trust and therefore have a powerful platform in society, whether they recognize it or not," FSMB said. "They also have an ethical and professional responsibility to practice medicine in the best interests of their patients and must share information that is factual, scientifically grounded and consensus-driven for the betterment of public health."

A hospital system in Colorado last week began denying potentially life-saving organ transplants to patients who are unvaccinated.