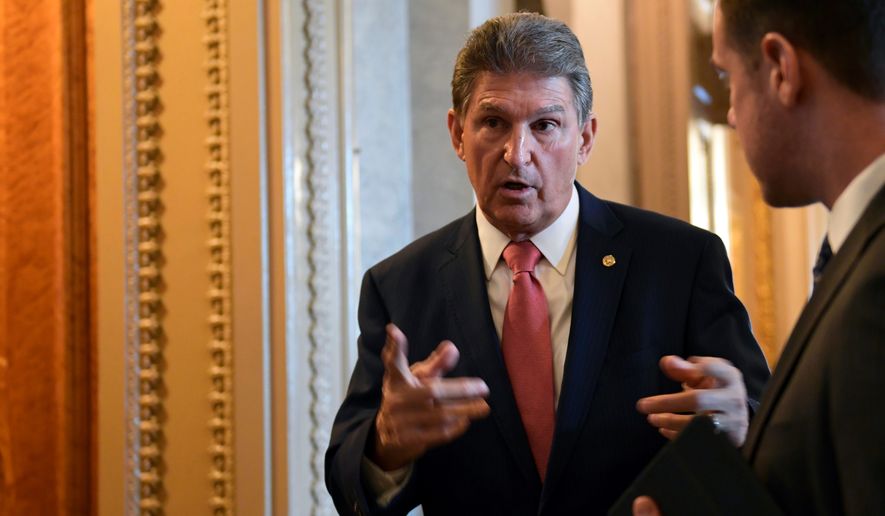 Manchin Responds — 'The rumor is bullshit'
"It's bullshit. I have no control of rumors, guys. No control of rumors," Manchin insisted after walking out of a lunch meeting with fellow Democrat committee chairmen just off the Senate floor.
Manchin appeared close to losing his temper on Wednesday when asked again about the Mother Jones report as he walked back to his office in the Hart Senate Office Building. "I can't control rumors, and it's bullshit, bullshit spelled with b, u, l, l, capital b!" he declared, his voice rising with exasperation.
Manchin told Fox News in July that he "never considered" switching his party affiliation and that he was more focused on the substance of policy debates and how they would affect his home state.
"If switching a party or whether you have a 'D' by your name or an 'R' by your name changes who you are as a person, then you're in the wrong profession and it's all about you and not about the oath you take to the office, the oath to the Constitution, to protect and defend," he told the cable network at the time.
If anything, Manchin's Democratic colleagues have moved closer to his position on Biden's Build Back Better agenda in recent weeks, acknowledging the spending package is likely to cost somewhere in the ballpark of $2 trillion instead of the $3.5 trillion target they set in their budget resolution.
---
Manchin Considers Leaving the Democrat Party and Has an Exit Plan
In recent days, Sen. Joe Manchin (D-W.Va.) has told associates that he is considering leaving the Democratic Party if President Joe Biden and Democrats on Capitol Hill do not agree to his demand to cut the size of the social infrastructure bill from $3.5 trillion to $1.75 trillion, according to people who have heard Manchin discuss this. Manchin has said that if this were to happen, he would declare himself an "American Independent."
And he has devised a detailed exit strategy for his departure.
Manchin has been in the center of a wild rush of negotiations with his fellow Democrats and the White House over a possible compromise regarding Biden's ambitious Build Back Better package, and Manchin's opposition to key provisions—including Medicare and Medicaid expansion, an expanded child tax credit, and measures to address climate change—has been an obstacle that the Democrats have yet to overcome. As these talks have proceeded, Manchin has discussed bolting from the Democratic Party—perhaps to place pressure on Biden and Democrats in these negotiations.
He told associates that he has a two-step plan for exiting the party.
First, he would send a letter to Sen. Chuck Schumer, the top Senate Democrat, removing himself from the Democratic leadership of the Senate. Manchin hopes that would send a signal. He would then wait and see if that move had any impact on the negotiations. After about a week, he said, he would change his voter registration from Democrat to independent.
It is unclear whether in this scenario Manchin would end up caucusing with the Democrats, which would allow them to continue to control the Senate, or side with the Republicans and place the Senate in GOP hands. In either event, he would hold great sway over this half of Congress.
Without Manchin's vote, the Democrats cannot pass the package in the 50–50 Senate.
Manchin told associates that he was prepared to initiate his exit plan earlier this week and had mentioned the possibility to Biden. But he was encouraged by the conversations with Sanders and top Democrats that occurred at the start of the week and did not yet see a reason to take this step. Still, he has informed associates that because he is so out of sync with the Democratic Party, he believes it is likely he will leave the party by November 2022.
Manchin has repeatedly said he has a significant philosophical difference with most of his fellow Democrats. He has told reporters that he believes major programs in the Build Back Better bill would move the United States toward an "entitlement mentality" and that he cannot accept that.
---
Story comes from Leftist David Corn…