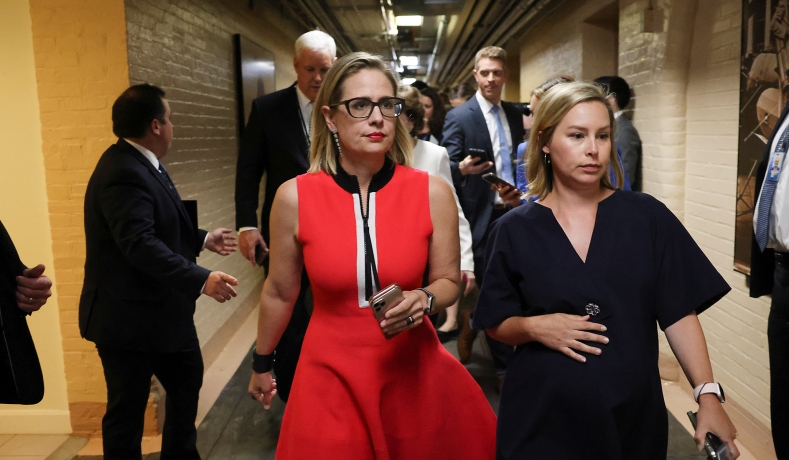 Five members of Sinema's Veterans Advisory Council on Thursday wrote a letter to the senator blasting her for opposing parts of President Joe Biden's $3.5 trillion reconciliation package and refusing to go along with a scheme to abolish the 60-vote requirement to overcome a filibuster and pass legislation in the Senate.
"You have become one of the principal obstacles to progress, answering to big donors rather than your own people. We shouldn't have to buy representation from you, and your failure to stand by your people and see their urgent needs is alarming," the Democratic veterans wrote in the letter, which was first reported by the New York Times.
The letter characterized the filibuster as "a Jim Crow relic designed to keep power in the hands of a few" and criticized Sinema for refusing to do away with it and pass election reforms and other parts of Biden's agenda. The veterans blamed the filibuster for stalling Democratic proposals to address rising drug prices, provide education aid, and expand health care as well as override election integrity laws passed by Republican state legislatures.
"As members of your Veterans Advisory Council for years, we're deeply concerned by your failure to acknowledge us or seek our input. Today, we feel as though we are merely given performative titles and used as window dressing for your own image—not as resources to provide counsel on what's best for veterans," Sinema's ex-advisers wrote. "Given your complete disregard for our input and your unwillingness to act on behalf of your constituents' needs, we respectfully resign from your Veterans Advisory Council."